Promotion startup kit - £475
- for marketing in digital and printed media - including SEO (Search Engline Optimisation) module.
(WebProLight £175)

(
WebProLight på Dansk)

Our Promotion startup kit includes:

1. Website
An impressive unique design, room for sixty-four web pages, contact page and so much more!
The design of ten web pages' content.
Including the world's easiest editing system which is both economic and easy to develop further.
Integrated social media.
Blog function.

2. Tuition and support
Including three months of support.
(Price for future support: ten coupons for £50 where one coupon = 15 min.)

3. SEO (Search Engine Optimisation) module
Setup of Google account including Google Maps and Google Analytics, optimisation for Google and other search engines, tuition in Google DIY.

4. Animations and films
Simple animations with impact, as well as editing and upload of three film clips, which you have recorded. We record films for £42 per hour + transport from Bournemouth and editing for £25 per hour.

5. Artwork for print
Artwork for business cards, letterheads, etc. and two signs. We upload the artwork to your chosen print company. Logos are designed for £25 per hour.

6. 'Postcard' for Facebook
Two 'postcards' featuring selected products/services for sharing on Facebook and in other social media.

7. Promotion strategy
A one hour meeting via Skype and drawing up of your promotional plan.

8. Social media strategy
A one hour meeting via Skype including consultation and free tools to carry out a professional strategy.

9. Multimedia File
Five pages of multimedia files with content from the website, which you can send by email. Including films and animations.

10. Email template
Design of email templates and tuition in how to produce and send impressive newsletters, all in your preferred email system.

11. Hosting of website
Our offer covers the first year of hosting. (Future hosting per year all inclusive costs from £55 to £85 depending on your required volume of server space.)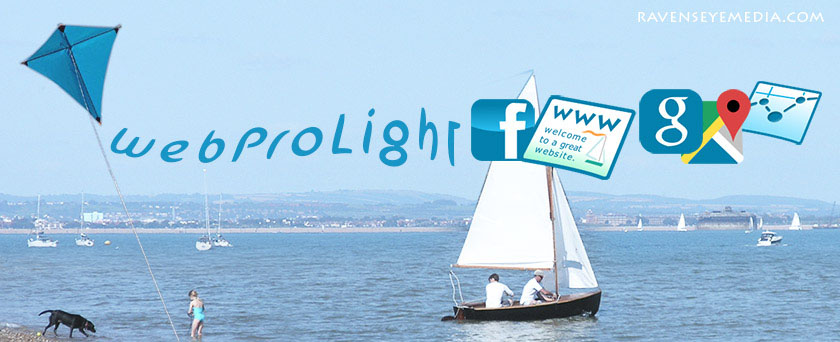 WebProLight £175
(Promotion startup kit - £475)

Some businesses benefit more from building their sales in social media and keep their website very simple. Working together with some of our new clients we developed a 'Light' StartKit. WebProLight contains:

1. Professional webpage + Facebook
An impressive unique design, webpage + Facebook. (Domain is seperate).
Design of one web page of content.


Includes the world's easiest web editing system which is both economic and easy to develop further.


Integrated social media.

2. Tuition and support
Including three months of support.
(Price for future support: ten coupons for £50 where 1 coupon = 15 min.)

3. SEO module
The Setup of a Google account including Google Maps and Google Analytics, optimisation for Google and others, tuition in Google DIY.

4. Artwork for print
Artwork for business cards, letterheads, etc. and two signs. We upload the artwork to your chosen print company. Logos are designed for £25 per hour.

5. 'Postcard' for Facebook
Four 'postcards' featuring selected products/services for sharing on Facebook and on other social media.

6. Free hosting of one page website
Our free offer covers the hosting of one webpage. The domain name and redirection is seperate (£30 per year). There is a maximum of 300Mb space. This solution can easily be expanded to the sixty-four page version. Price will depend on the content. Future hosting per year, all included, costs from £55 to £85 depending on your required volume of server space.



Unique Benefits
The unique benefits from working with us is that you will be working together with experienced award-winning professionals who have a keen eye for the essence of your business and you will be supported by technology and work processes which we have developed professionally for your requirements and tested over a long period of time.

The media/IT industry offer more and more 'easy solutions' from all over the world. Initially these can seem easily accessible with many clever (and often confusing) effects and functions. However, it is important to choose the solutions which will be the most effective and economically sensible in the long run. Our web systems and work methods give you the benefits from over twenty years of experience with hundreds of Companies of all sizes and from a wide range of industries.

Our solutions are developed especially to be great tools for your communication and marketing requirements, to support your work processes and be accessible on all types of devices. We are able to develop your solutions further in the future to meet your expanding requirements, easily and economically.

Hourly fees for future work:

Website, social media, artwork for print: First hour £35, and

£

25 per hour thereafter.

Film recording: £42 per hour + transport from Bournemouth

Film editing and animations: £25 per hour.

Tuition and guidance via the internet - at a time that suits you.

Tuition and support provided online. Here you will communicate with your web-tutor via an internet conferencing system and all equipment required will be sent to you. You will be given access to a calendar so that you can book support/tuition.

What would you like us to help you with?

The products of some companies are already so well-defined and ordered that it is very easy to transfer them to a website in a logical way that also sells well. However, on many occasions it is profitable to work with the text directly so that its presentation on the internet is as clear and professional as possible. We will find out what kind of help and advice you need - for example if it is assistance with concept development, text work, menu structures and / or graphics and illustrations - and we tailor the tuition to your needs.

Additional module: Picture production for the Web


You will soon see what a great difference it makes when you know more about how best to record and produce images or moving images to publish to your website. You will be asked to send us images that you have recorded and together we will work with them. If you have basic questions about how to use your digital camera, we advise you first of all to consult your local camera equipment specialist - eg. the shop where you bought your camera.






LIKE our Facebook PAGE and get the news about film releases, good offers, courses and share experiences working with media and IT.